Klicka här för att ladda ner PDF
Extension without limits
With an IP extender you can use devices anywhere on your TCP / IP Ethernet WAN / LAN and get the experience that you work with them as if they were next to you - even if the connection is established via an Internet connection! It offers many opportunities. Place servers and PCs in server rooms or protected locks and work with them as if they were in the same room. Place computers elsewhere and avoid sound and heat but still have full access to the screen, keyboard, ports and mice.
A typical application is receptions, monitoring functions, etc. Create a virtual IP network in a workgroup regardless of distance and geography.
Anyone with an IP extender can access all computers based on their role and user profile. Add to an overlying management software and assign permissions to it. Work on any of the group's computers based on your profile.
Typical applications are working groups that are put together for a specific task. Many KVM solutions are also based on the technology of IP extenders. One can say that a digital KVM switch is a number of IP extender built into a common solution with a common rights system that provides security and access control.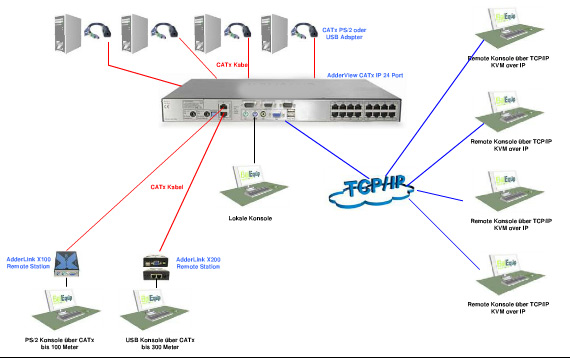 An IP extender compresses the signals and converts them into packets, sends them over IP to a remote console, which then unpacks and reconstructs the signal for image, audio and other devices.
Using an IP extender you can extend to one or more computers that can be remotely controlled over WAN, LAN or a telephone line over the TCP / IP protocol.
Compared to conventional methods of remote administration (for example, in-band Virtual Network Computing or Terminal Services), a KVM switch has the advantage that it does not depend on software running on the remote computer. This enables remote-level interaction with BIOS settings and monitoring of the entire boot process before, during and after the operating system is loaded. It is also very safe. Modern KVM over IP usually uses at least 128-bit encryption with secure KVM configuration via a WAN or LAN (with SSL).
There are several different providers of solutions for IP extenders - go to this page to see all that exists and find the solution that best suits your needs (swedish).
Why use IP extenders?
IP extenders eliminate the need for installation of expensive 802.3 repeater (Ethernet Repeater), twisted pair (CAT5 / CAT6) cables, or fiber and associated fiber transmitters. IP extenders provide the most cost-effective solutions for any project where you need to extend your LAN.
Which IP extender should I choose?
Speed
Speed is often the most important requirement - don't settle for low bandwidth! Make sure you understand and ask for the actual speed of the cable to be used. There are many manufacturers and all do not give the same results and true throuput.
Installation
The installation of IP extenders should be Plug and Play. That is no configuration or programming.
Support
Often, these are important features that run across an IP extender. Therefore, please stick to companies with long experience and a history in the market. Make sure you can get support and help both before and after the purchase.